Church Tower – Blakeney Church
Blakeney Church has two stunning towers, one of which is accessible by foot and provides panoramic views of our beautiful community and coastline.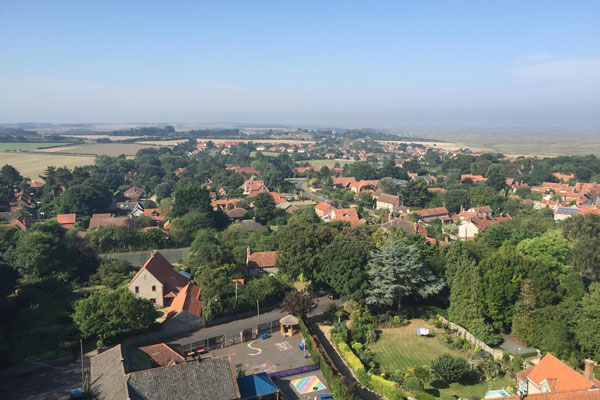 About The Tower
Blakeney Church is fortunate enough to be in possession of two glorious towers. This not only marks the church out as unique in the local area, but can provide church visitors with unparalleled view of Blakeney's beautiful surroundings.
The late Church historian Richard Butler-Stoney suggests that at the time of the church's construction, the entrance to the harbour would have been situated opposite Cley. He maintained that by lining up both towers in your field of vision, you would have been guide through the channel between the sand banks.
It is thought that the East Tower may have been created to house a single bell that would announce the consecration of elements in the Communion Service. It sits atop of the oldest part of the Church and is a testament to the "Early English Decorated" style of architecture. The West Tower is in keeping with the 15th century history of the church's main body and stands proudly at a lofty 104 feet high as a prominent and familiar feature of Blakeney's landscape.
Visiting The Tower
The Church Tower is open every week from Tuesday to Thursday from 10.00am-4.00pm.
NB Due to annual leave the Tower is not open 27-29 July but will be open on Friday 30 July.
There are 137 steep, spiral steps to the top, after which you are rewarded with a wonderful, panoramic view of the Benefice and beyond.
For safety, please note:
A maximum number of 10 people can climb the tower at any one time.
No children under 5.
Children aged 5-14 must be accompanied by an adult.
We suggest that no visitors with a heart condition, or a fear of heights embark on the climb!
If you would like to visit the Church tower outside normal opening times, or arrange a group visit, please contact the Benefice Office: [email protected];  or call us 01263 740583.