Welcome to Glaven Valley Benefice
We're very glad that that support now once again involves holding services in some of our church buildings as follows and zoom meetings will continue. 
Blakeney Church
Sunday Worship
Join us on Sunday from 10.30 AM. Service commences at 11 AM
also accessible live on Zoom
(See below – ' Online Worship')
Open for Private Prayer Wednesday 2-5pm
Cley Church
'Sacred Space' – music, words, reflection
Open for Private Prayer Thursday 2-5pm
Wiveton Church
Service of Contemplation
silence, prayer, candles, stillness
Open for Private Prayer Tuesday 2-5pm
Glandford Church
Open for Private Prayer Monday & Friday 2-5pm
Letheringsett Church
Open for Private Prayer Saturday 2-5pm
Unfortunately, the churches are not yet open for general visitors.
All details on our website: glavenvalleychurches.org.uk
Online Worship
Every Sunday we will worship together "live" at 11am via Zoom.
Click this link anytime from 10.45 on Sunday to join:
https://us02web.zoom.us/j/83813261881?pwd=YXRKY1E2ODVNbExjNHgyR0Y2dDRLdz09
Meeting ID: 838 1326 1881
Passcode: 297490
Join by phone
+44 20 3937 4977 (PIN: 302590954)
A downloadable/printable version of the service will be attached below. Please check back if it is not yet available.
We are also now streaming pre-recorded material on our "Glaven Valley Churches"
YouTube Channel
https://www.youtube.com/watch?v=ym9DebJ1UuM&t=31s
We warmly welcome you all to join with us!
If you would like to be added to the Benefice email distribution list, to receive a personal link to the Zoom, regular daily reflections, or request prayer for yourself or anyone you know, please contact:
Rev. Richard Lawry (Rector)
01263 740686
The Glaven Valley Benefice – Rector's Letter
Update from the churches of the Glaven Valley Benefice
for September 2020
Dear all,
The fact that this month we're producing a hard-copy version of the GVN for the first time for several months has caused me to reflect a bit on the idea of the "real" and the "virtual".
It's been a tremendous help (and a huge convenience) to have the GVN online during this period, and continuing online too.  Thanks again to the team who've made that possible!  But of course those without the internet will also be glad to see the return of the physical version.  Similarly Zoom, FaceTime, Skype and all of those facilities have been a massive help in keeping people in touch since the lockdown, and enabling us to see colleagues and loved ones (even if only their image on screen).  But virtual interaction is not the same as an actual handshake or hug – making real, physical  contact with other people.  Human touch is something else.  And to be theological for a moment, that's what's crucial about the Christian story.  It wasn't enough for God to be just abstract or virtual; he had to become more "real" and physical for us, by coming and actually sharing our human life, and transforming it.  With all respect to Coca-Cola – God is "The Real Thing" on another level!
Anyway, we're enjoying the best of both worlds at the moment in church.  We're now able to meet in our larger church buildings at least (where social distancing is possible – real but not touching!), but we're still broadcasting the morning service live online, as we will continue to do for the foreseeable future (and probably the not foreseeable as well!). 
And for the moment, we're continuing with the following service pattern:
Blakeney – 11.00am every Sunday
"Benefice Communion Service" (also streamed live via Zoom for any not able to attend).  The invitation to join us online, with the relevant Zoom link for each week, can be found on the website (see below).
Wiveton – 6.00pm on the second Sunday of the month
"Service of Contemplation" (13th September), following the pattern of the established monthly Service of Reflection – silence, prayer, candles, stillness.
Cley – 6.00pm on the fourth Sunday of the month
"Sacred Space" (27th September) – a service of themed music, reflections, poems, prayers.
In addition to the actual services, one of our churches is open for private prayer on each day of the week – from 2.00-5.00pm.  It's very good news that Letheringsett Church has now been able to open up too and be part of that rota.
So the updated pattern for this is:
Mon – Glandford
Tue – Wiveton
Wed – Blakeney
Thur – Cley
Fri – Glandford 
Sat – Letheringsett
Our benefice website address is:  www.glavenvalleychurches.org.uk where you'll find more details and information about our churches, and what's available both generally and at the moment. 
If you'd prefer, please contact me on [email protected]  or by phone on 740686.
We'd love to have all our churches open all the time, but we'll have to wait for that. 
In the meantime, whether you're a resident or a visitor, you are very welcome to join us whenever you can.  On behalf of everyone in our churches, this comes with very best wishes.
Happy September!
Richard.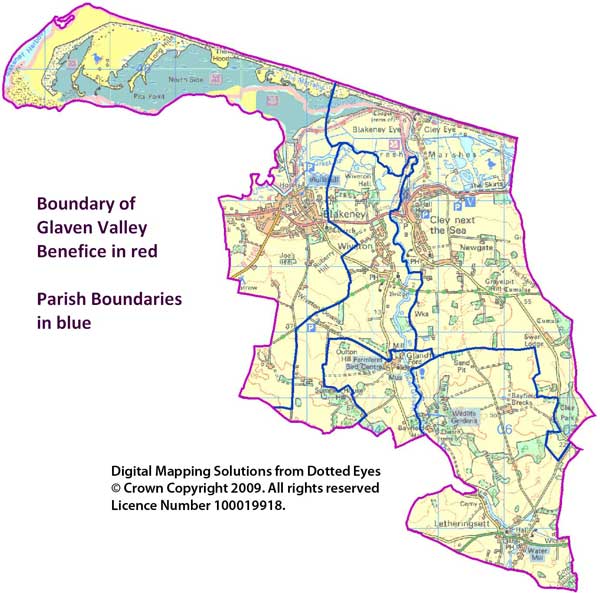 The Glaven Valley Benefice – Our Vision 
"To be a ministry that cherishes and welcomes people of all ages and backgrounds, whether residents or visitors and to reach out to the children and young people in our communities. To build on the strong foundations of faith, worship and outreach which have been laid in the benefice and to continue moving forward in our church and community life."