Welcome to Glaven Valley Benefice
During this period when our churches are closed and we are unable to physically meet for worship, our churches can now share together in
Online Worship
Every Sunday we will worship together "live" at 11am via Zoom.
Click this link anytime from 10.45 on Sunday to join:
Join by phone
+44 20 3937 4977 (PIN: 302590954)
A downloadable/printable version of the service will be attached below. Please check back if it is not yet available.
We are also now streaming pre-recorded material on our "Glaven Valley Churches"
YouTube Channel
https://www.youtube.com/watch?v=ym9DebJ1UuM&t=31s
Starting with a reflection for Maundy Thursday
We warmly welcome you all to join with us!
If you would like to be added to the Benefice email distribution list, to receive a personal link to the Zoom, regular daily reflections, or request prayer for yourself or anyone you know, please contact:
Rev. Richard Lawry (Rector)
revrichardlawry[email protected]
01263 740686
The Glaven Valley Benefice – Rector's Letter
         RECTOR'S LETTER
Update from the churches of the Glaven Valley Benefice
for May 2020
Dear All,
It won't come as any surprise to you to discover that there is very little to report or advertise in our churches at the moment!  As you'll be aware, our churches have had to remain completely closed since late March, and at the time of writing, there is sadly little prospect of that changing in the weeks to come.  It's not yet possible for us to begin planning "life after lockdown"!  When that happy time comes, we will be swinging into action again with our services and social events, as all the different activities become feasible again.
However, in the meantime, there is a lot that's going on remotely.  Here are some of those things we can offer at the moment to anyone who'd like to avail themselves:
We've set up our own 'Glaven Valley Churches' Youtube channel.

 

We launched this especially for Holy Week, and have posted short films for reflection on Maundy Thursday, Good Friday and Easter Day.

 

There will probably be more to come, but you might like to look at those already there.

 

Got to Youtube, search for 'Glaven Valley Churches', and click where you see the flint wall cross in a circle.

 

Details also on our website home page:
www.glavenvalleychurches.org.uk   
We're holding online services every Sunday at 11.00 via Google Hangout. 
You can also find instructions for linking in with this on our website home page (see above).
If you're having any difficulties downloading that or hooking up, Tricia has kindly offered to help (contact her on [email protected] ).
I'm also sending out, each week in advance, an order of service for people to follow at the time (with or without joining Google Hangout).  So if you'd like to be included, just email me on [email protected] and I'll add you to my list.
There are so many wonderful initiatives happening in our villages at the moment, in terms of practical support.

 

The details of these will be found on this site and others.

 

And I'd like to reassure you that, alongside those, the churches are still here and active for everyone, even if only over the phone, if you or someone you know needs personal or pastoral support.

 

And thank you to everyone in these amazing communities for all you're doing!
The season of Easter continues for seven weeks up to Pentecost.  We are celebrating the new life and hope that was shown to us in the Resurrection.  Even under these very tough conditions at the moment, that hope still shines.  God loves us, and offers us a vision to keep us going.  And we'll get there!
God bless you,
Richard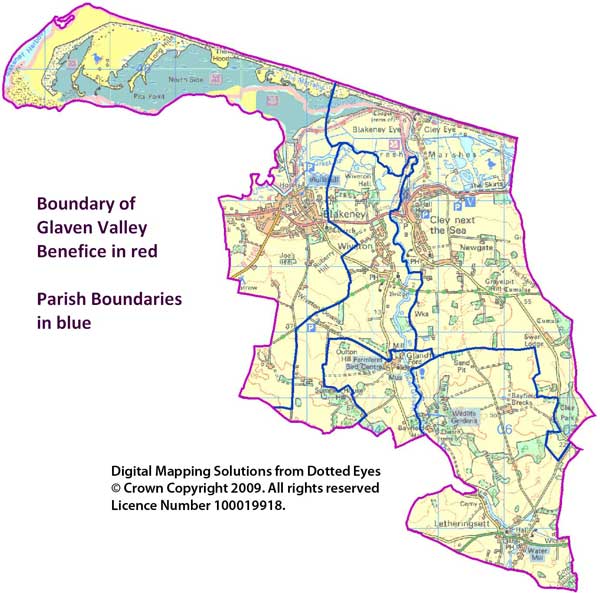 The Glaven Valley Benefice – Our Vision 
"To be a ministry that cherishes and welcomes people of all ages and backgrounds, whether residents or visitors and to reach out to the children and young people in our communities. To build on the strong foundations of faith, worship and outreach which have been laid in the benefice and to continue moving forward in our church and community life."