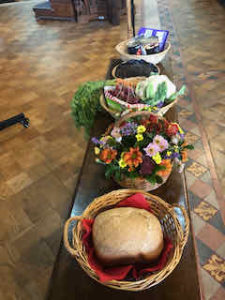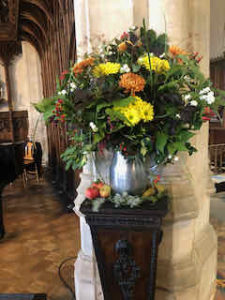 Harvest Festival at Blakeney
We had a wonderfully fulfilling and fun time together, with lunch too!
We also gave thanks to Jan for her work is Head Flower Arranger for many years.
Food donations around the Font are being given to Cromer Foodbank. Thank you to all who have contributed.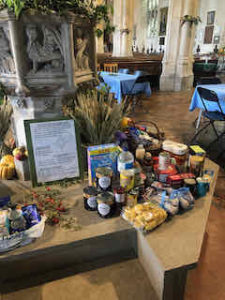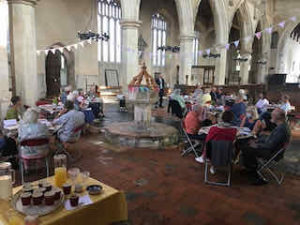 Cafe Church resumes!
How wonderful to be back together again in September for Cafe Church in Cley.
We have all missed this different event in our lovely church. It's not really a service, more a gathering of lovely people 'doing church differently'.  Yes, of course worship and prayers, but also proper coffee, croissants and newspapers creating a lively atmosphere for stimulating thoughts and lots of conversations with old and new friends – and their canine companions! Do come and enjoy us every 3rd Sunday at 11.15.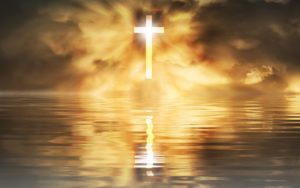 Giving thanks for the lives of Robin & Jim
We give thanks for the lives of Robin Combe & Jim Woodhouse.
They gave so much in God's service to both Glandford & Wiveton churches and also the wider community over many decades. Their presence amongst us, their infectious joy, deep wisdom and experience will be hugely missed.  May they rest in peace and rise in glory.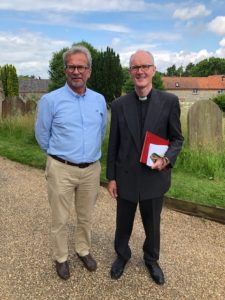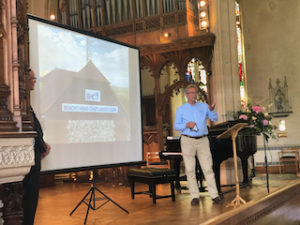 Welcome Jonathan!
It was a delight to welcome Jonathan Lamb to our recent Praise and Worship service. We know Jonathan well through our links with Life in Abundance and his leadership of groups from the Glaven Valley to Rwanda. He visits us often.
In his interview with Richard, Jonathan talked about how he felt God's strong call to become a Volunteer with the Beachy Head Chaplaincy after hearing a talk from their CEO at his church. He sensed a real connection between Beachy Head and Rwanda. Both are places of great beauty, but also of darkness and sadness: Rwanda being associated with the Genocide, and Beachy Head as a place where people go to take their own lives. When he was originally called to the mission field, he wondered how God could possibly ask him to serve Him in that way! He now felt just the same way about Beachy Head. However, he had been feeling for a while that he would like to support a local outreach mission alongside his international support for Life in Abundance and Rwanda.
He completed a 10-week training course for the new skill sets needed – observation, intervention and negotiation. After this and much prayer, he reflected on how God had picked him to serve Him and support those in crisis in this particular way. How did that happen? The confirmation came after his first 5-hour shift. He felt that this really was of God! The work is a direct front-line activity and very different from the work he does with Life in Abundance. He is convinced that both are God's work and fully worthy of his time and energy.
Let's continue to support Jonathan in prayer.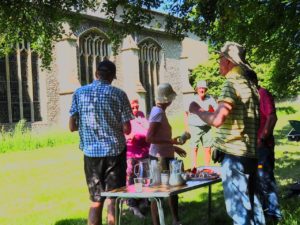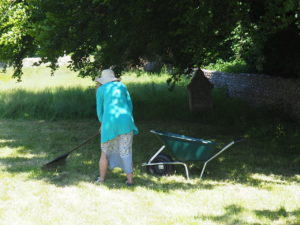 Wildlife and Wildflowers in the Churchyard
We had a lovely afternoon working together to care for the wildflowers and wildlife in Blakeney Churchyard.
Churchyards can be both burial places for tranquil reflection on the lives of relatives and friends as well as havens for wildlife abundant in flowers, birds and butterflies (be careful you don't step on a toad!). In Blakeney this was recognised by groundsman Ian Moy who sadly died recently after a short illness. He clearly loved looking after the churchyard.
The combined wildlife value of the five churchyards in the Glaven Valley is enormous. Each church is responsible for the care and management of its churchyard. The very wet weather this Spring has meant that all growth has flourished, but churchyards have been a riot of colourful flowers. Managing churchyards for wildlife and people requires expertise, but with a willing band of helpers! Do get in touch if you'd like to join us.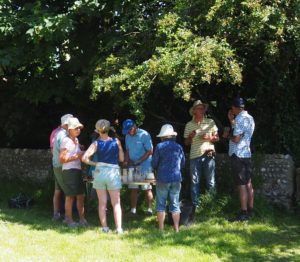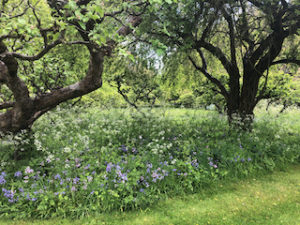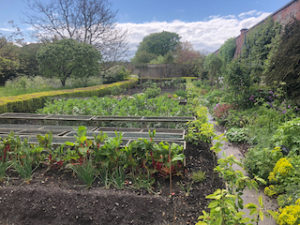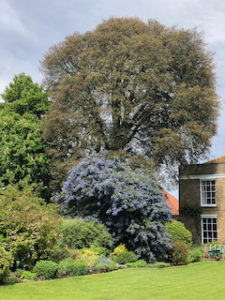 The Secret Garden
Thank you to Clare & David Marris for welcoming us all to their 2 acres of walled 'secret' garden, The Merchants House, on Saturday 22 May as part of the National Garden Scheme Open Gardens.
Despite the cold damp weather many enjoyed the terrace, woodland walk, parterre, shrub borders, orchard, kitchen garden and herbaceous border. Hot drinks (much needed), light lunches and cakes were sold in aid of Blakeney Church.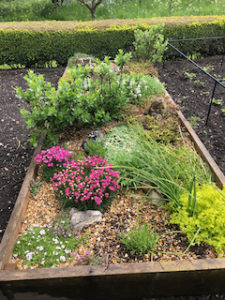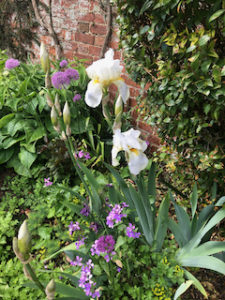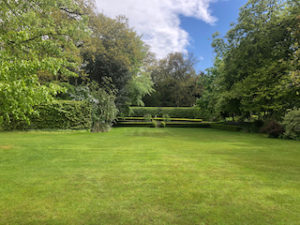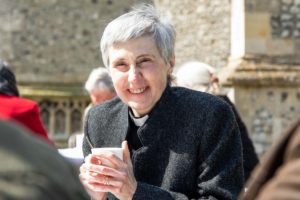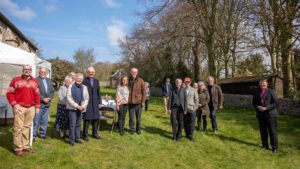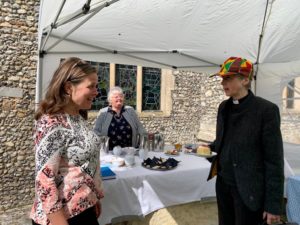 Bishop Designate comes to visit!
As part of her introduction to our diocese, the Bishop of Lynn designate, The Ven Dr Jane Steen, had a chat with those involved with our wonderfully welcoming Blakeney Church's breakfast and lunch events
On her appointment, Jane said: "I am honoured and delighted to have been called to be the next Bishop of Lynn and I am looking forward to the new ministry to which God and the Church have called me. It will be a privilege to minister with the clergy and laity of the Lynn archdeaconry and to serve the wider life of north and west Norfolk."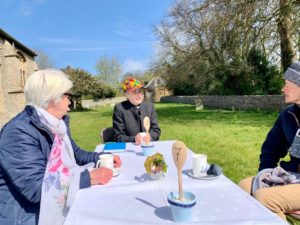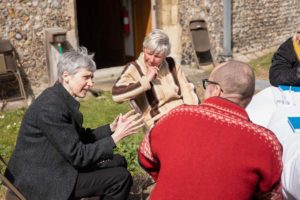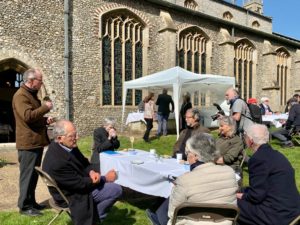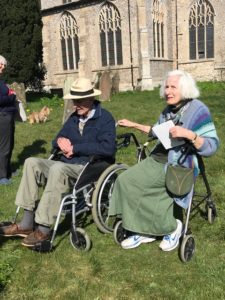 Celebrating Jim and Sarah Woodhouse
On a sunny and warm Tuesday 30 March, Jim and Sarah met with Richard, Charles and Susi Killin, Margie Bennett, Mary Wakelin and Anthea de Loynes in Wiveton Churchyard to plant a rowan tree – a gift from Wiveton PCC to celebrate the decades of service Jim and Sarah have given to Wiveton Church. Jim is about to retire as churchwarden after many, many years and Sarah is retiring from the PCC and the huge number of other roles they have taken on over the years. An engraved plaque of thanks has been placed at the foot of the tree. Restrictions and health permitting we all hope to be able to give a more public thank you to this irreplaceable, special, selfless couple in due course.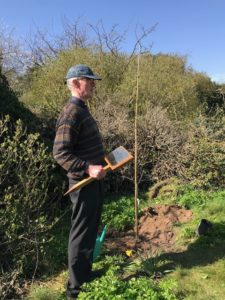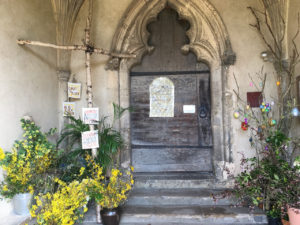 Cley Church Decorations
Here is a glimpse of the fantastic, inspirational decorations in Cley Church Porch 'Stairway to Heaven'  which  were in place through Holy Week and transformed for Easter Day. After the equally wonderful Advent Porches  this seems to be becoming Cley's unique seasonal offering! Watch this space for the next instalment!
Holy Week and Easter across the Benefice
We had such a range of beautiful services over Holy Week and Easter. Those who came to Night Prayer (Compline) in Glandford Church on the first three evenings of Holy Week were greeted by an incredible display of daffodils by the path up to the church. Robin Combe, one of the churchwardens, maintains he has never seen so many daffodils there in his life – or so many people coming to Compline in Holy Week! These were followed by an atmospheric Maundy Thursday Communion in Wiveton, two moving Good Friday meditations in Blakeney and Cley and the joy of Easter Day which began in Wiveton churchyard with the sun rising from the clouds on cue as we sang Thine be the Glory! A wonderful journey.