About the Parish
Cley, whose population doubles in the months of July and August, is well known for its Windmill, the Cley Nature Reserve and our beautiful fourteenth century St Margaret's Church. The village also contains a Smokehouse, Pottery, Art Gallery and an award winning Delicatessen.
The Village Hall is used frequently by a variety of organisations, including the Cley Social Club, The Norfolk Wildlife Trust, The Women's Institute, NADFAS, Cley Carpet Bowls and the Cley Amateur Dramatic Society. It is also the setting for the Harvest Supper, attended by many members of the village and for regular church sales, antique fairs, exhibitions and private parties and celebrations.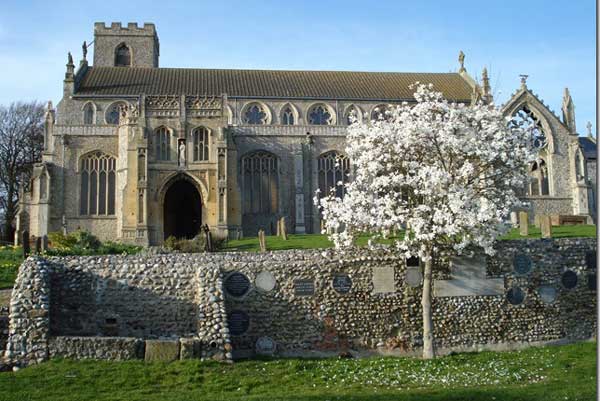 The Parish Church
The present Church, featured in Pevsner and in Simon Jenkins' 1000 Best Churches, dates from the early part of the 14th Century and stands on the site of an earlier building, across the valley from Wiveton Church. In the Middle Ages the valley between the two was navigable water, used by coastal and foreign craft and bringing considerable wealth to the area. The south porch of the Church with its carved stone heraldry, provides a beautiful entrance. Once inside one is aware of the almost cathedral-like proportions of the high nave and the vast west window and the cinquefoil windows of the clerestory flooding the interior with light. There has been a continuous restoration programme for the last 25 years and this year has seen the north, south and west medieval doors repaired and re-hung by a team of expert craftsmen.
Church Life
There is a strong community feeling for the Church and the good response to the monthly "Children and Families" Service, started three years ago, continues to give us joy and hope. Volunteers, both church-going and non church-going, meet regularly to tend the two graveyards, and twice a year they give enthusiastic help in a sociable clean-up of the whole Church. Weekly flower arranging is undertaken by a voluntary rota. The Church is always open all day.
Fund raising events include the "St Margaret's Fair" in July as part of our Patronal Festival weekend, and "Stalls in the Garden" in August. These both involve broad village participation and attract large attendances. Other events such as lectures, a recent book launch and a children's art exhibition have also been well subscribed, and there are regular concerts including the Music in Country Churches series of which the latest, held last July, was attended by its Patron, HRH the Prince of Wales