Cafe T.M.C
Who are we? Cafe TMC is a church project striving to: Break down barriers and misconceptions we all have of the church. Provide a service to the village and holiday makers and to create a warm and friendly environment to engage in everything from community natter to the big questions of life.
Unique
Café TMC is unique in it's approach.  In the warmth and comfort of our humble chapel, we seek to create a safe space for people to enjoy outstanding refreshments and engage in shared Christian and secular concerns of our world.  There's no pressure to join in, but there are plenty of opportunities at the Café or indeed during your onward journey to think about some of the questions we bring.
Blakeney
Currently, we provide delicious homemade cakes and scones alongside good coffee and tea.  We have noticed that Blakeney distinctly lacks a traditional tea room and are pleased to offer this service.  Any money raised is invested into the community by supporting local charities and supporting the chapel.
Our Dream
Our dream is to become a fulltime café providing opportunity for rest and refreshment, break down barriers and stereotypes of the church, serve the community and offer the love of God to all who walk through our doors.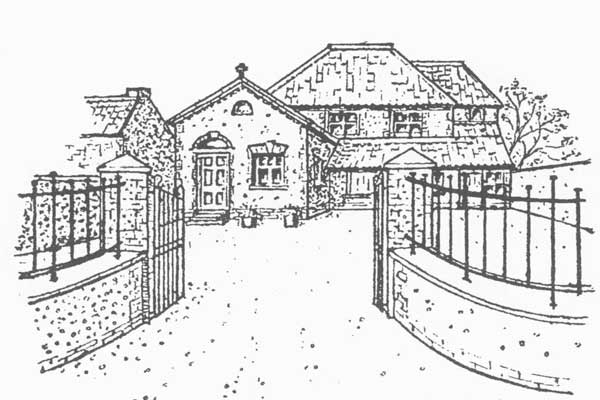 Café TMC is closed for the winter months
we currently offer use of our space for free to the community.
Cafe TMC and Blakeney
What do you do at Café TMC
JM        I am the Assistant manager and have been here since the beginning of the season and really enjoying myself.
LM       I am the Manager and I've been here a little bit longer, I started last year and am really excited to be working with Jo and getting the new season underway.
How did Café TMC come into your life
LM       How can I put this.  Basically, Jenny.  She has a lot to answer for in my life!  I help run 1st Fakenham Senior Section with Jenny and it was on a Christmas sleepover she was telling me she as looking for a new Manager and the job and whole ethos really interested me.  The rest they say is history.
JM       I was looking for a new challenge and something different that would somehow use my skills and talents, yet offer something back to the community.  I didn't think it was possible, but stumbled across an advert for this job online, rang Jenny and had a chat with lucy and couldn't believe my luck!
What do you love about working at Café TMC
LM       Lilian! But seriously, its friendly and a relaxing place to work.  This year, we've had a bright start and it's going to be a promising season.  I like the fact we always put the person before everything else, we're not about profit, we're about community and I like the freedom I'm given to listen to the needs of the village and try and respond accordingly, for example we've started a tea and tots on the 1st Friday of the month and we've just started a book club on the 3rd Friday of the month.  Come and see us!  We're also committed to being as inclusive as we possibly can; dietary requirements are no problem and whatever personal baggage you have – you're assured of a friendly welcome.
JM       Lilian! Ha ha! And her wicked sense of humour!  I've enjoyed meeting lots of people in a relaxed environment and am committed to the principles that the Café stands for and am excited to help move it forward.  Oh, I also love meeting all the dogs! And I love the visitors book, such nice and sometimes funny comments with the occasional piece of art.
What's the most challenging thing about being at Café TMC
LM that's an interesting question.  It depends, sometimes it's heart breaking listening to some of the stories we hear, but at the same time it's such a privilege.  The village has lots of potential and finding ways to help bridge those possibilities and actively engage has it's challenges.  When it's busy, keeping on top of the washing up is always a challenge!
JM       When I hear about how the Café started and what resources there were, it's amazing to think how far we've come.  However, I can see so much more potential here but we're limited by resources.  I don't think we need massive changes, but there are some small practical changes that we can make that would make enormous difference.  Does anyone know of a food mixer going spare?
What's your dream for the Café?
LM       Well, last year we had 4,500 through our door and I'd like to beat that this year – come and see us!  But seriously to continue being sustainable for our long term future; where volunteers enjoy their important role, support Chapel and village projects and bridge the gap between Chapel and stranger.
JM       As part of the community space we have planned, we'd love to provide a laptop and printer for the village and visitors, with internet access.  A focus and hub for everyone basically because that's one of the reasons I like working here; we're not just a café and we're not just a church; we're so much more.  It's a great place to fuse a coffee, cake and culinary delights, with conversation, compassion and creativity.  And lots of dogs, I like dogs, did I mention that?
When you are not in the Café, what do you do?
LM       I work as an administrator for the Central Norfolk Circuit which is great fund and a challenge! I mentioned I run 1st Fakenham Senior Section with Jenny and I love spending time with my nieces, I share a lot of the childcare duties with my sisters which is just a joy.  I'm also in the gym lot and love going to Body Pump.
JM       I paint, I garden and spend a lot of time with my dogs.  My husband and I go walking a lot and I am studying Professional Cookery at Norwich City College.
What is your favourite dish at the Café
LM       My hummus!  I'm happy to have converted so many visitors to the joys of homemade hummus.  We have different flavours most weeks, which has intrigued even the most sceptical eaters and yet once they've tried my hummus they can't go back.  I also love the brownies we do here.  Actually, I'm addicted to brownies!
JM       I am very partial to a cheeky scone, particularly made by Joselyn from Holt!  Actually, everything Joselyn makes, I can see why people travel from afar for her Norfolk Shortcake and Bakewell Tarts!
Blakeney Chapel